Для начинающих
ECM in 10 Albums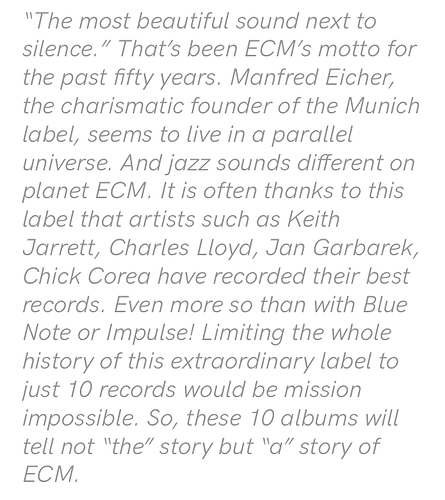 Спойлер

Mal Waldron Trio – Free at Last (1970)
Recorded in trio at the Tonstudio Bauer in Ludwigsburg on November 24, 1969, by pianist Mal Waldron, it was with this album that producer Manfred Eicher first launched ECM. The Munich label only produced 500 copies at the time, but it would go on to sell over 14,000 units ten years later. "This album was the beginning of what I wanted to do more than anything else", Eicher told Qobuz in 2008. "Holding the finished product in my hands, looking at the cover, it symbolized everything that I wanted to do…" In 1969, Mal Waldron was already in his forties, with about ten albums under his belt and an extensive CV that featured names such as Charles Mingus, Billie Holiday, John Coltrane, Eric Dolphy, Jackie McLean, Kenny Burrell, Abbey Lincoln and Max Roach. Like many other pianists, the New Yorker had left his native land for Europe. He moved to France, then Italy and finally Germany in 1967… Munich, to be precise. Waldron was starting a new chapter in his life. In 1963, he had lost the use of his hands following a heroin overdose and almost had to learn how to play all over again… Together with Swiss double bassist Isla Eckinger and American drummer Clarence Becton, he signed off on this debut album and stamped it with the ECM logo. His playing was very rhythmic (Thelonious Monk being one of his major influences) and there was little improvisation around the chord changes. While Free at Last is neither the author's greatest record nor the most essential album in the thick ECM catalogue, it symbolizes the philosophy of the German team in its emphasis on space. Free jazz was fashionable at the time and the trio offered up a mix of avant-garde sounds. But there was no trace of that famous "ECM sound" just yet…

Chic Corea – Return to Forever (1972)
Jazz fusion has given rise to loads of terrible albums, but fortunately there are many masterpieces in the mix too. Such as this record, which was recorded on February 2nd and 3rd, 1972, in New York. Entitled Return to Forever, the pianist Chick Corea (who had just left Miles Davis) brought together bass guitar god Stanley Clarke, underrated flautist and saxophonist Joe Farrell as well as Brazilian singer Flora Purim and her husband/percussionist Airto Moreira. The slight "Brazilian touch" is one of the most interesting elements in this jazz fusion and the record offered up an alternative to the fusions by the likes of Miles or John McLaughlin's Mahavishnu Orchestra, who were much more interested in rock. Sat behind his electric keyboards, Corea remained largely attached to the melodic framework of his compositions. Above all, note incontinence (which has polluted so many electronic projects) is never on the agenda. On Crystal Silence, Farrell's sax solo is exquisite, and Corea's own solo, which is as light as a feather, is equally skilful. Accused of being too ostentatious by his critics, Stanley Clarke is also surprisingly subtle and his performance on Sometime Ago - La Fiesta is one of his most moving pieces. Return to Forever is considered to be one of the greatest jazz fusion albums ever, perhaps because it destroys any clichés. Despite a regularly changing line-up, the following success of the band was colossal (with six studio albums in five years), undoubtedly because they turned to a much more "rock" formula, with a sound that was ultimately quite far away from this first chapter.

Keith Jarrett – The Köln Concert (1975)
Like the Mona Lisa at the Louvre, Keith Jarrett's Köln Concert is a bit like ECM's prized possession. Having sold 4 million copies, it is not only the best-selling album in the label's history but also the best-selling solo piano album of all time! Recorded at the Cologne Opera House on January 24, 1975, many of those who bought this album had no other jazz records in their collection. However, this global phenomenon got off to a bad start. That evening, the American pianist was exhausted from his long car journey, he was suffering from back pain and, to top it all off, the piano on stage was not the Bösendorfer he had asked for but a cheaper version instead. "I think Keith played like that because it was just a mediocre piano" producer Manfred Eicher later told us. "As he couldn't fall in love with the sound of that instrument, he had to find the right way of playing it to make the most of it anyway." Jarrett was just 30 years old at the time of that concert for 1,400 spectators. He had already had a rich career, with fifteen records to his credit as well as invaluable experience in groups with Charles Lloyd and Miles Davis. In 1975, his style was already very personal. While the influence of Bill Evans was perceptible, his improvisations were wonderfully unique and this Köln Concert just goes to prove that. Jarrett intertwined lyrical melodies with meditative atmospheres, and emphasized the fluidity between genres, nourishing his jazz with elements from classical music, gospel, Latin American and folk. A torrent of notes came pouring out of his piano though he never lost control. In 1992, he told the German magazine Der Spiegel that over time, the Köln Concert had become nothing more than a soundtrack. "We have to learn to forget music" he added. "Otherwise we become addicted to the past."

Pat Metheny – Bright Size Life (1976)
For a first attempt, it's a masterstroke! Released in 1976, Bright Size Life was Pat Metheny's first record as a leader. Just 21 years old, the American guitarist already showed a real maturity as a virtuosic composer and performer. He joined forces with Jaco Pastorius on bass and Bob Moses on a flexible and dynamic drum kit. These ideal accomplices allowed him to develop what would later become his trademark sound: a fluid and often lyrical style. The wide, open spaces of his native Midwest were reflected in his guitar playing as well as in the track titles (Missouri Uncompromised, Midwestern Nights Dream and Omaha Celebration). A great wisdom emerged from this clear and beautiful album (Jim Hall's influence is evident) which closes with Round Trip/Broadway Blues, an unexpected medley of two pieces by Ornette Coleman, one of Metheny's idols, with whom he would go on to record Song X ten years later. But underneath this calm surface, this young virtuoso wanted to change the world. He explained this in an interview with Just Jazz Guitar in 2001: "Even though Bright Size Life may not sound like it, we were pissed off. That album is a very strong political statement from us on how we felt about what our instruments needed to do to remain relevant in jazz. Listening to it now, with 25 years of perspective, I think our message got across, I believe we did change things. That album was a manifesto of some very specific things that we felt strongly about, in terms of harmony, in terms of interaction, in terms of the sound of the instruments. You have to listen to that album to hear where we were at that time."

Terje Rypdal – Waves (1978)
Terje Rypdal released this eclectic album the same year that he turned 30. It was a true reflection of the style that he had already developed over his past six albums for Manfred Eicher's label. Recorded in his hometown of Oslo in September 1977, Waves used the Norwegian guitarist's electronic style while he juggled with his various influences; pure jazz, rock and even new age. Like a bewitching whale song, his six strings painted huge mesmerising soundscapes. While Miles Davis' Bitches Brew had a huge impact on him, Rypdal's jazz fusion was not only inspired by his American contemporaries. Surrounded by his fellow countrymen - bassist Sveinung Hovensjø and drummer Jon Christensen – his music was not only sensory and climatic, but also rather syncretic. And to challenge the clichés of the soaring, mystical Scandinavian virtuoso (much like the landscapes that he grew up in), Terje Rypdal invited Palle Mikkelborg on board. The Danish trumpeter is the central element of the revolution taking shape here. After a rather playful intro, composed against a captivating drum machine (Per Ulv), the guitarist returned to more contemplative atmospheres (Karusell), before rushing headlong into a frenzy of rock-soaked jazz (The Dain Curse). His partnership with Mikkelborg was astonishing and would continue throughout his career.

Art Ensemble of Chicago – Nice Guys (1979)
ECM may have been created in the golden age of free jazz, but Manfred Eicher approached the genre with a twist: "I didn't want to work too much with the free jazz scene because I thought it was mostly made for live performance. And that the entire strength of that intensity was difficult to capture on tape." When he brought together the Art Ensemble of Chicago in Tonstudio Bauer in Ludwigsburg in May 1978 to record this aptly named album Nice Guys, the storm suddenly grew calm. Born ten years earlier, the Chicago gang continued their unique Great Black Music for their first ECM record by mixing together improvisations, music from their elders, tribal sequences and freedom in all its forms. For Lester Bowie, Malachi Favors, Joseph Jarman, Roscoe Mitchell and Don Moye, Great Black Music was plural. It therefore seemed only logical that they built more bridges between continents and decades than usual. And while Nice Guys looks more like a patchwork than an entity, that's only because it perfectly documents an original avant-garde vision and an exciting era. Not one for sensitive souls.

John Surman – Road to Saint Ives (1990)
This album is the work of one man and one man only: John Surman. On soprano and baritone saxophone, bass clarinet, keyboard, synthesizer and percussion, the British musician played everything here himself, skilfully superimposing each instrument in measured layers. The result is magnificent. It alternates between an introspective journey and a wide range of sonic landscapes. When he released this record at the age of 46, Surman was already a major figure in European jazz and a first-class resident at ECM, having already signed off on several records for the label. However, this solitary journey, which was captured in April 1990 at Rainbow Studio in Oslo, gave his sound universe a new density. The harmonic strength makes it one of his most beautiful recordings. Road to Saint Ives was inspired by the landscape and history of Cornwall, which have fascinated him since his childhood, even though the saxophonist insists in the cover notes that he comes from a city further to the east and isn't truly Cornish. "The pieces are not intended to be musical portraits of particular places or events, the tracks being simply a collection of some of the intriguing place-names found on and around the road to St. Ives…" John Surman's eclecticism is what makes his journey so fascinating. He alternates between mystical passages from ancient times that are rooted in a folk tradition and sequences with almost futuristic sounds. A journey like no other…

Jan Garbarek / Anouar Brahem / Ustad Shaukat Hussain – Madar (1994)
Whether he studies the music of ancient polyphonic composers or exchanges sounds with musicians from Asia or Africa, whether he transmits the folk tradition of his native Norway or joins Keith Jarrett's European quartet, the saxophonist Jan Garbarek has never stopped exploring. So much so that without him (being the musician who has recorded the most for ECM), Manfred Eicher's label would not be the same. Nor would European jazz… Garbarek has his own sound. A kind of atmosphere that's immediately recognizable among thousands. In his extensive discography, Madar should be filed under the 'world experiences' section. Recorded in Oslo in the summer of 1992 with the Tunisian oudist Anouar Brahem and the Pakistani percussionist Ustad Shaukat Hussain, the album captured a dialogue between different cultures right from the start. Garbarek had already exchanged melodies with Pakistani musicians two years earlier as part of a sextet on the record Ragas and Sagas. But on this record, the smaller cast gave more strength to his interventions and his two accomplices were presented on an equal footing. Like Anouar Brahem's improvised solo on Bahia, or Shaukat Hussain's tabla which carried the theme on Jaw, Garbarek added two pieces from his native folklore (Sull lull and Joron). The trio slalom from one landscape to another for over an hour and a quarter. In short, it's a pure ECM record, and an expert in breaking down borders.

Nils Petter Molvær – Khmer (1997)
ECM has sometimes been criticized for only making ECM records. Always that same sound. That same aesthetic. That rich jazz that was occasionally imbued with world sounds and dominated by spaces and climatic improvisations… Manfred Eicher has also been accused of resting on his laurels and only working with the same musicians… With Khmers, the producer from Munich proved that his ears are not immune to what was being whispered around him. This record is a kind of UFO in his label's vast catalogue. It was Nils Petter Molvær's first solo album, a musician who was formerly known for his work with the group Masqualero, and the record intrigued the jazz world when it was released in 1998. With a muted sound that linked him to the unique sound of Miles Davis, the Norwegian trumpeter explored new territories between the borders of jazz, electronic and world music. Being a big fan of Miles' electric years, Molvaer aimed to merge Bill Laswell's productions with Massive Attack's trip hop, tribal world rhythms and the drum'n'bass and jungle that was popular in England at the time. With the help of samples and drum machines, the avant-garde Scandinavian compositions retain a great melodic sensuality. And without scratching too far beneath the surface, we even find some traces of that famous ECM DNA.

Charles Lloyd – The Water Is Wide (2000)
When Charles Lloyd signed with ECM in 1989, he couldn't have imagined that he would experience one of the most wonderful resurrections a jazzman of his generation has ever experienced. Adored by his peers and the public until the end of the 1960s, the Memphis saxophonist was 51 years old at the time of this resurrection. During the 1970s, he only occasionally picked up his instrument and it was only at the beginning of the following decade that he formed a new group with pianist Michel Petrucciani. From 1989 to 2013, Lloyd recorded sixteen albums for ECM. These records are cleverly thought out and always imbued with his own ethereal lyricism. He developed a dream-like style which kept its freshness, even though it was consistent with his work of yesteryear. Released in August 2000, The Water is Wide is one of the highlights from his long enchanting career, partly due to its five-star cast. Guitarist John Abercrombie, pianist Brad Mehldau, double bassist Larry Grenadier and his old drummer Billy Higgins provide Charles Lloyd with a rich backdrop onto which he adds his generous and spiritual phrases. With the help of a slow tempo repertoire that mixes jazz standards, traditional pieces (Georgia, The Water Is Wide, Black Butterfly, Lotus Blossom, Heaven, There Is a Balm in Gilead) and personal compositions, he accentuates the moving depth of his playing. The alchemy between the five men is constantly palpable and it amplifies the warmth of a record that you can listen to again and again without ever growing tired of it.
Вот это каноничная штука.
У Джаретта конечно многие ссылаются на Кельнский концерт, но на моей золотой полке вот этот. Погружает и уносит
А ж 2 диска в коллекции. Первака
На золотой полке от Гарбарека есть три топчика помимо Madar
Анур Брахем есть 4 или 5 дисков
Но эти самые любимые (глаза Риты на золотой полке, второй сложнее, пока раскрываю - уже года два)
Это все ECM здорового человека
Всегда! И вечером тоже

Кстати может кто будет крайний альбом тащить из европ захватит и мне дисочек
Парни из Пурпурного Л возят - ценник скромный
Алина по утрам со мной с 2017 года. Я не знаю лучшей музыкальной иллюстрации к английскому слову serene.
там пока нет крайнего альбома. Но ок, буду наблюдать
Нажмите кнопку share и скиньте сюда

Господа, кому нибудь нужны релизы Tord Gustavsen Trio и Anouar Brahem? Есть варик выкупить за 40-50% от рыночной стоимости (Москва). У меня эти релизы есть, просто буду рад поделиться. Поторопитесь, сам я опоздал - многое успели разобрать. Завтра встречаюсь с продавцом, но могу закинуть ещё в корзину. В среднем по рублю за релиз.
Да, еще если кому-то нужны релизы можете написать в ЛС, есть возможность привезти некоторые релизы из Англии в ближайшее время. За посредничество возьму минимум. Это не бизнес - просто хобби, как у всех нас, влюбленных в ECM. Надеюсь предложением не нарушаю правила бара.
А у меня почему то много разных, и они по стилям разложены. Само так, автоматом . Я только сердечки ставил

Аа, ясно. Не, я вручную отбирал.
Старые не нужны?
Tord Gustavsen Quartet – Extended Circle
Лейбл: ECM Records – ECM 2358
Продано
Tord Gustavsen Trio – Being There
Лейбл: ECM Records – ECM 2017
РЕЗЕРВ
Tord Gustavsen Trio – Changing Places
Лейбл: ECM Records – ECM 1834
Продано
У меня есть. Но точно кто-то обязан забрать